Hydraulic C Press best models 20, 50, 150 Ton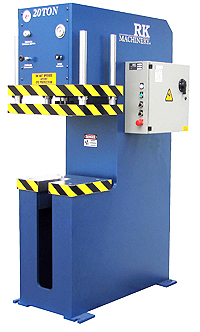 When you need good machinery that can get the job done right, while still being safe for the user than you need to consider what you are going to use. For those that need a hydraulic c press you want something that is going to be durable, strong, sturdy and reliable. This hydraulic c press needs to be built right and built tough so that it can handle those tough jobs for you.
The Hydraulic C Frame Press, manufactured by RK Machinery is one of the best models for a hydraulic c press. There machine comes in different models from the twenty ton press, fifty ton press and the one hundred fifty ton press. Which model you need is of course going to be based on the project you are about to tackle.
Each model contains a quality low speed BALDOR motor. The standard u-slot table can be removed and replaced with a table that better suits your needs or the needs of the job. They come equipped with a programmable system to make small project or quick ones that much faster. And it comes with duel control so that you can use the palm of your hand or a foot switch whichever you prefer to work the machine.
This is not just the best because the company thinks so, it's the best because those who have tried it, or use it on a regular basis say so.
The adjustable controls allow the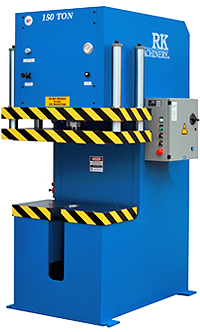 operator to change the ramming speed to something they are comfortable with. And the reverse switches for pressure, distance and stroke control are a great safety feature for all operators new or experienced.
Contact Rk Machinery to find out what's the best Hydraulic C press for your job.